Posted by Kokolicious on August 1st, 2008
The Errant Auto Rickshaw Walas Of Delhi

Delhi is the capital o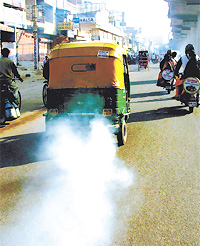 f India and a business center where people from all over the country dwell for their livelihood. It is becoming more populous day after day and hence the increasing demand for various amenities and facilities is getting more difficult to be accommodated. This is the reason why many people engaged in providing these basic services are fleecing. Round the clock available auto rickshaw is not an exception to this thriving pattern in Delhi. These auto rickshaw drivers run on their own terms. They refuse to ferry passengers to the desired destinations, they demand unreasonably exuberant fares for the journey and also misbehave with the passenger. This has become a common tendency everywhere in the city.
Often, people do not bother to raise the voice and surrender to the unlawful demands and pay them exorbitantly much higher than the actual meter rate. Moreover, the complaint helpline number (Call-011-23010101 ,011-23378888 and 011-42400400 and sms-56767) given also does not respond to the customers woes. There is no other feasible replacement to a three-wheeler in Delhi to reach several destinations. And, these errant auto rickshaw drivers exploit the passengers in need. Ironically, the Delhi Government, Transport Department and Delhi Traffic Police have no control over such auto rickshaw chalaks despite many claims of taking strict actions against such drivers. Then, what should a common man do to get the better services?
Though, in a recent move the honorable Delhi high court has favoured hiking the fine from Rs 100 to Rs 500 to be imposed on these erring transporters. Moreover, there are regular checking of such auto rickshaw drivers by flying squads but the condition remains as worst as it is there for years. If you remember more recently these auto rickshaw operators had demanded to revise the meter rate and the government also accepted their demands. But, even after the hiked meter rates no auto rickshaw driver is prepared to carry the passenger even on hiked meter rate. They have the monopoly and hence they misuse their position, almost always and everywhere.
So, it is primarily government's responsibility to formulate a proper mechanism and take these errant auto rickshaw drivers under control. Apart from the government, it is your responsibility also to make them obey the rules and not to surrender to their unfair demands. If they overcharge, misbehave or refuse to go to your desired destination then you should immediately make a formal complaint with the authorities and check whether the operator has been punished or not. And, gradually these perverse transporters will come on right track provided the whole Delhi stands to teach them the lesson. So, this is our place and we have to live here forever and only we can improve it by taking initiatives.